Seaway Plastics Engineering
Seaway Plastics is an industry leader providing custom plastic injection molding solutions serving as low to mid volume specialists in highly regulated industries. With decades of experience and 5 locations across the United States, we provide complete solutions to complex challenges to the medical, aerospace/defense, consumer and precision industrial segments. This includes valuable services such as collaborative engineering partnerships and post-molding services that many injection molders do not offer — especially for lower volume orders.
Seaway's mission is to create parts and assemblies the world can depend on.
We serve a global customer base and pride ourselves on a complete solution provider for your plastic injection molding needs.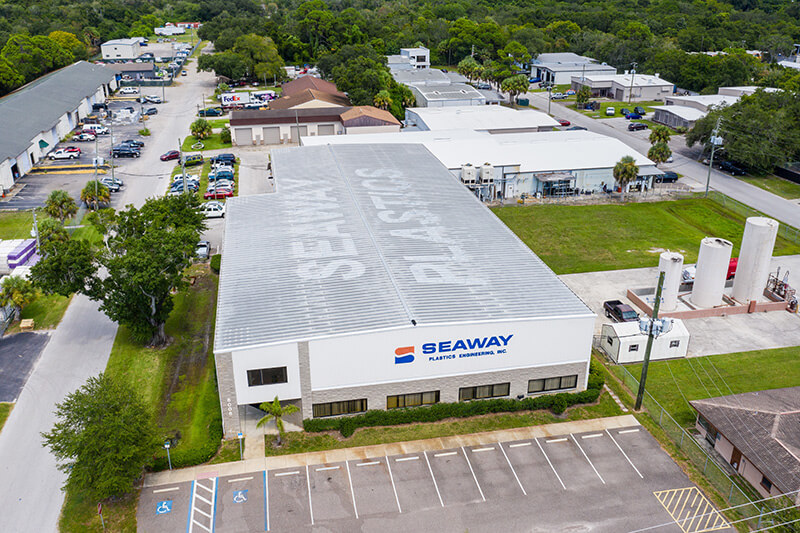 Our Beginning in Detroit, Michigan
Our story starts with two teenage brothers working for different plastic molding companies in Detroit, Michigan. In 1973, the enterprising young brothers Len and Jerry Bahalo opened Seaway Plastics, and just a few years later, they hired Paul Yellinick, a specialist in injection molded parts and product design. He was quickly promoted to plant manager not long after hiring.
During this time, Seaway Plastics Engineering was recognized as a pioneer in the prototype injection molding and low-volume production market. After the Bahalo brothers sold the company to Yellenick, Yellinick then decided to take the company to Tampa Bay, Florida.
Seaway Plastics Moves to Florida
In 1986, Seaway Plastics Engineering chose Tampa Bay, Florida, as its new home. The small town of Port Richey (just north of Tampa) had a growing industrial sector and access to an experienced pool of talent in mold manufacturing, product design, and part design.
Yellinick only had a few injection molding machines and the knowledge he'd gained while working in Detroit. He had to gather the most dedicated people he could find to build the operation from the ground up. Staking the right talent, his team worked as one, and the company became successful quickly.
Smock and Bernard Buy the Company
By 1996, Seaway had grown from a few small warehouses to one large, consolidated space. Yellinick was ready to retire, but he wanted the business to go to someone he could trust to protect its legacy.
At the same time, Tim Smock and Paul Bernard, veterans in the plastic injection molding industry, were looking for an opportunity. They were excited about the progress Seaway Plastics Engineering had made over the last decade, and they saw a lot of potential for its future.
Smock was a former sales agent for Revere Plastics in Detroit, so he knew what Seaway could do based on the history of its founder. Bernard, an operations expert, delighted in the Tampa Bay manufacturing company's capabilities and its likelihood for growth. They decided to buy Seaway Plastics Engineering and combine their skills to make the business even more successful.
Seaway Expands Production by Acquiring Excalibur
Over the next 16 years, Seaway Plastics grew into a full-scale industrial business. In 2012, Smock and Bernard decided to expand the The Bay Area company's production capacity to meet an exponential increase in demand. Seaway needed more space, and Excalibur Manufacturing in Brooksville, Florida, caught their eye.
The former Excalibur plant became Seaway's Brooksville facility, the second part of Seaway's eastern presence. By acquiring Excalibur, Seaway added over 30,000 square feet of combined warehouse and manufacturing space to its operations. This increased the company's tooling abilities, high-volume production potential, and post-production services. Seaway's customers then gained access to more post molding services and complete product assembly capabilities.
Seaway Adds New Tools and Software
As operations continued to grow, Seaway Plastics Engineering added a 950-ton machine. This gave the plastic molding company the ability to craft large parts that normally needed to be handled at specialized factories often located overseas. This lowered costs for customers, while also allowing the company to meet the needs of customers from more industries including the automotive and marine industries.
In 2015, Smock and Bernard decided to sell and retire. They transferred ownership of the company to Tonka Bay Equity. At the same time, Seaway continued its lifelong commitment to innovation by adding an ISO 7 Clean Room to provide businesses in the medical industry with the cleanest parts available.
The following year, Seaway invested in the IQMS system to maintain customer records and streamline the customer journey. This software allowed the company to keep up with a growing customer base and an expansion of orders, while also improving its customer service.
Seaway Manufactures Lifesaving Medical Supplies
When the COVID-19 pandemic hit in 2020, the country came to a standstill. Seaway Plastics, thought, was deemed essential and stayed open to provide the medical industry with lifesaving supplies. Throughout this trying year, Seaway worked to support the local community and national businesses, while also maintaining safety precautions to prevent the spread of COVID-19.
Seaway Acquires Wright Engineered Plastics
That same year, Seaway decided to expand operations from the East Coast to the West Coast. To make that possible, the company acquired Wright Engineered Plastics, a plastic molding company in the San Francisco Bay area. Seaway then had a strong presence on the West Coast through Wright Engineered Plastics in addition to its locations on the East Coast in Florida.
Wright had been around since the late 1960s, and the acquisition added several expert functions to Seaway's operations including two-shot molding, over-molding, and expanded automation capabilities. Additionally, Wright's FDA registration increased the company's ability to handle the needs of businesses in the medical and pharmaceutical industries.
By adding Wright's capabilities to their own offerings, Seaway also became able to offer a wider array of post-injection molding services such as ultrasonic welding, EMI shielding, pad printing, laser marking, full-service painting, product assembly, and more to Wright customers. 
Seaway Acquires Minnesota Mold and Engineering Group
In late 2022 Seaway decided to further expand operations and purchased MME Group. Based out of St. Paul, Minnesota, MME has two locations just down the road from each other.
MME Group started as a small tool shop in 1974 and grew into a top-quality contract manufacturing
business. MME is a 24/7, three-shift operation with more than 100,000 square feet of manufacturing
space.
By acquiring MME, Seaway now offers silicone (LSR) injection molding as well as over 30,000 square feet of clean room molding and assembly space. MME is ISO 13485:2016 certified, as well as ITAR compliant and FDA registered for medical and government contract manufacturing and assembly. Together, Seaway, Wright and MME are ready to meet the needs of business from every industry.
Seaway Commits to Premier Services
Seaway is committed to continued growth to meet the advancing needs of today's businesses. Our expanded capabilities and facilities are ready to serve customers from the East Coast to the West Coast and everything in between. We look forward to providing our clients with the premium services they have enjoyed with us through the years, while also always striving to do more. Here's to innovation!
Get started on a plastic molding project today! To talk about your injection molding needs, contact us. We look forward to answering your questions and getting to work on your project.
Ready to Discuss Your Injection Molding Project?