About Our Certifications & Accreditations
Seaway Plastics Engineering, Wright Engineered Plastics, and MME Group have a variety of certifications and accreditations that demonstrate our commitment to quality. We are ready to meet the requirements of the medical, aerospace, military, defense, and other industries with high standards. Here is an overview of the certifications and accreditations held by our facilities.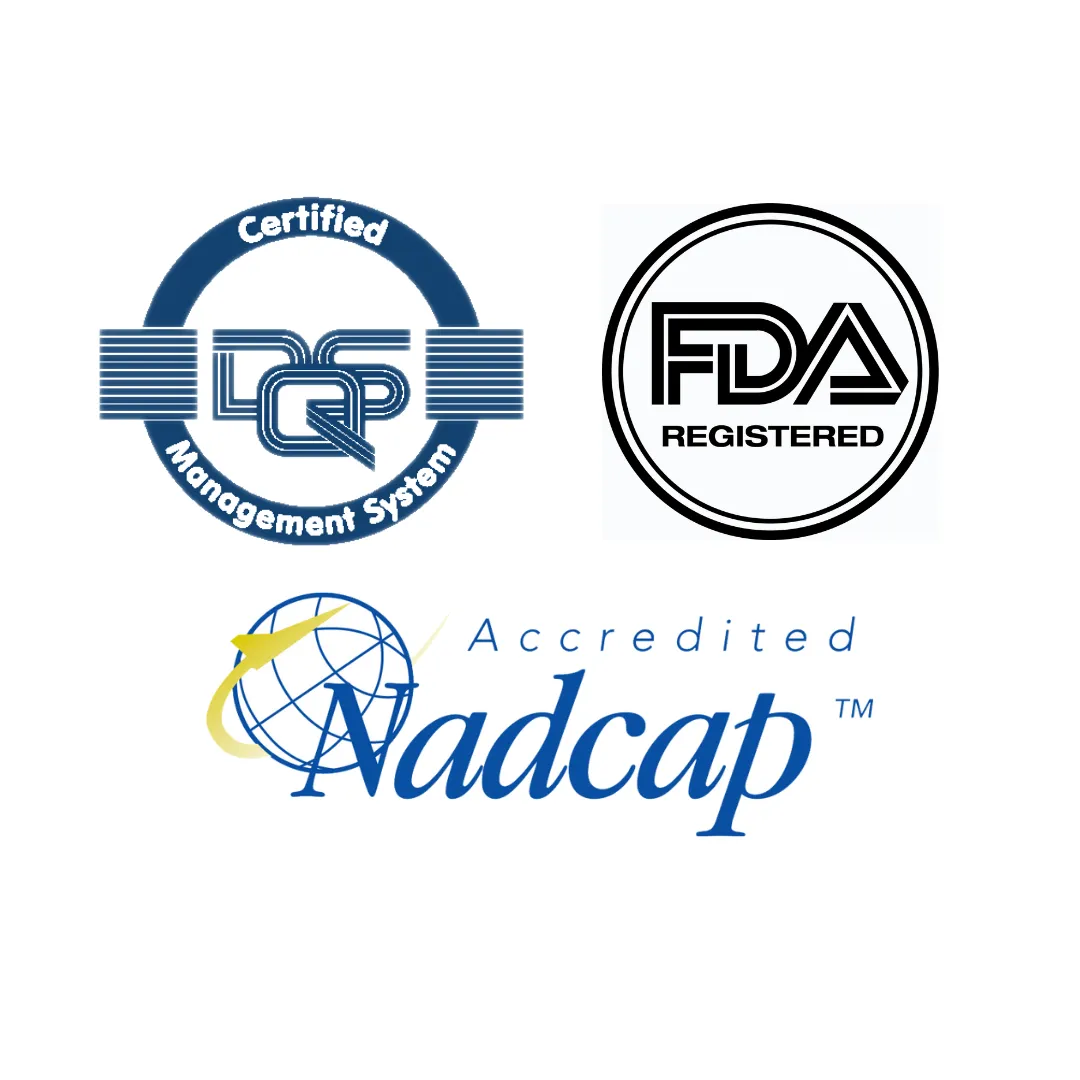 ISO 9001 Certification
Both of our Florida facilities have ISO 9001 certifications, and this demonstrates that our quality management system meets the following standards:
Uniform structure of quality management and assurance systems throughout the whole manufacturing process.
High level of commitment to quality support from the company's managers and executives.
Simplified implementation of quality assurance practices and procedures.
Strong commitment to customers' needs and interests.
Our ISO 9001 certification indicates that we are committed to quality and that we use unified and standardized industry processes.
Click here to see our ISO 9001 certification for the Florida facilities in the US.
ISO 13485 Certification
All 5 of our facilities have ISO 13485 certification. Focused on quality assurance for medical devices, ISO 13485 is designed to protect patients and other end-users, and it exceeds the ISO 9001 standards. To maintain this certification, we must meet the following requirements which are documented internally and audited by a third party:
Documentation for medical device files
Quality control systems in place for the respective work environment
Contamination control
Production processes for product cleanliness
Assurances for sterile medical device production
Outlines course of action for reporting to regulatory authorities
Manufacturers that don't meet these requirements cannot produce safe, high-quality medical devices. Click here to see our ISO 13485 certification at all five facilities throughout the US.
International Traffic in Arms Registration (ITAR)
ITAR applies to manufacturers that deal with defense parts and services. It prohibits exports, imports, and sales to and/or from specific countries, and it outlines policies and procedures that manufacturers need to meet in the interest of national security.
Federal Drug Administration Registration
Three out of five of our facilities are FDA Registered.
The FDA regulates a range of medical devices, and it keeps a record of all medical devices produced by FDA-registered companies in the United States. This record allows the agency to ensure the manufacturers are meeting stringent quality requirements, and it helps the FDA deal with public health emergencies.
Medical equipment that is manufactured in facilities without FDA registration may be illegal and potentially harmful to the end-user. Additionally, healthcare professionals who use these devices may face consequences if their patients have adverse reactions.
Our facilities go through an extensive review process to renew this registration every year. Check out the registration and listing on the FDA database here.
National Aerospace and Defense Contractors Accreditations
Both of the Seaway facilities in Florida have earned accreditations from the National Aerospace and Defense Contractors Accreditation Program (NADCAP) for chemical processing (AC7108) and aerospace systems (AC7004). The NADCAP gathers expert knowledge from different businesses in these industries to establish a set standard of uniform requirements, and these standards allow us to accept projects related to aerospace and chemical processing.