About Post Molding Production
Most molders don't offer post-production processes or secondary services. Instead, they just "shoot and ship" — They shoot plastic into the mold, cut it, and ship it to the customer. Then, the customer has to complete the assembly or handle other post-production processes. This increases costs and leads to long wait times.
Seaway Plastics Engineering offers full turnkey services and complete assemblies. Our post-production and secondary services include:
Sonic welding
Heat staking
Thermal and ultrasonic inserting
Post molding machining and CNC machining
Ultrasonic cleaning
Laser marking
Full painting capabilities
EMI/RFI shielding
Screen printing
Pad printing
Light assembly
Most of our processes meet NADCAP accreditation standards for 7004 and 7108, and our complete in-house operations and wide range of post-molding services allow our customers to take care of their whole project in one place.
Let the Seaway family handle your entire project from start to finish! Contact us today to talk about your project.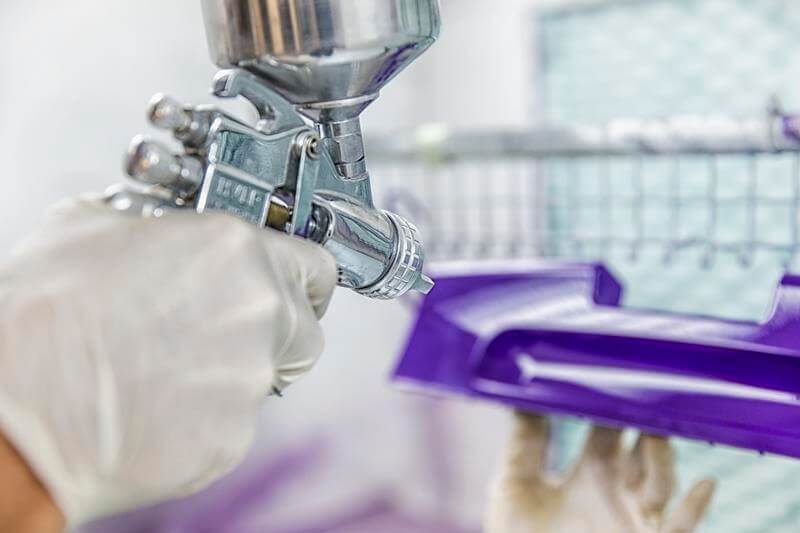 Top Coat Painting & Shielding
Some projects rely on over-molding or in-mold design and decoration (IMDD) to add finishing touches, but these methods are not always an option due to color variations, material textures, security needs, part size, or other challenges. In these situations, customers should consider top coat painting or shielding.
Top coat painting and shielding add finishing touches to parts through film, paint, powdered plastics, or metallic vapors. These processes add aesthetic appeal, while also improving functionality and longevity.
High Standards and a Dedication to Quality
We provide very high standards to meet the needs of highly regulated industries such as the medical, aerospace, and military industrials. However, our high standards don't match the needs of every prospective customer, because many common-use assemblies simply don't require this level of quality.
Our Quality Assurance department works hard to meet the stringent requirements of our customers, and we have many certifications that prove our parts can withstand demanding environments and a variety of different extremes. We apply skill and finesse to ensure that highly complicated applications meet the needs of our customers, but again, not every plastic part requires this level of durability.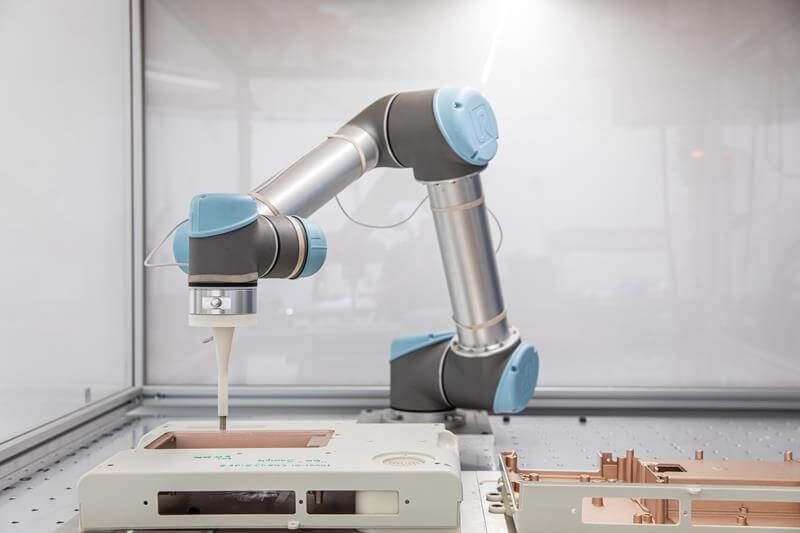 The company needed 10 new parts made for a new sensor used now for filtration systems for oil field workers. Through their initial planning, they understood that they needed a few different requirements met. The first was that they needed to produce these parts with a manufacturer that had high QA and QC standards and had stringent testing abilities to mimic real-world situations. The second was that they needed a specific plastic resin that would withstand extreme exposure to moisture, particles, and chemicals. The third was that they required a manufacturer with experience in producing parts made with this specific resin. Due to its highly engineered nature, creation of these parts required specialized attention and testing.
About Painting & Shielding
While alternatives exist, some cosmetics are not achievable during the molding process. For those variables, top coat painting and shielding serve as an answer. These processes apply different materials to enhance texture, security, and color (to name a few) to provide a finished product for the customer. While these are not absolutely necessary for every product, several companies in highly regulated industries require such processes. For example, shielding a pacemaker's inside housing could mean the difference between it functioning correctly or having severe consequences. For others outside of the medical industry, placing a logo or another cosmetic effect on a finished product could augment the product's look and usability. Whether it's marking a button or indicating where a cable goes, post production can complement most devices and assemblies.
Though using different materials like film, paint, powdered plastics, or metallic vapors, Seaway has many ways to finish products. Depending on the design's specifications and expected end results, engineers will assist in selecting the right finishes for the right use. A medical device may not require a textured finish like a product made for the defense sector, and knowing makes the difference.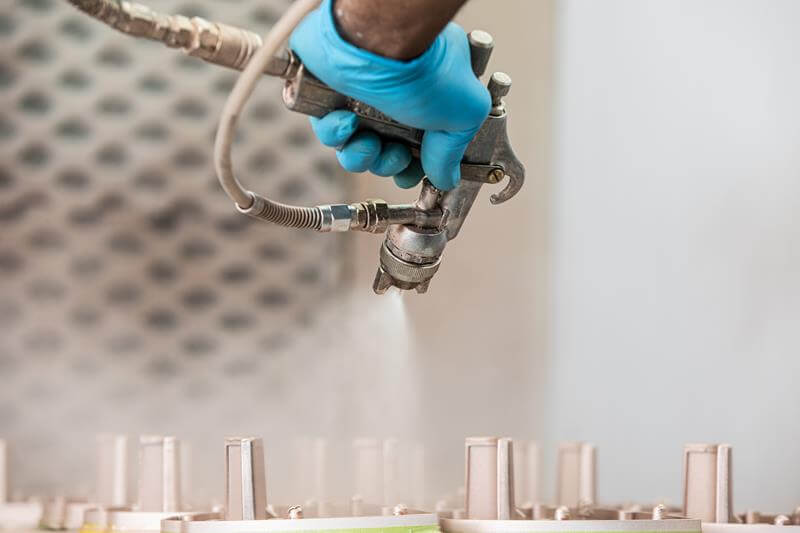 Painting Processes
Seaway uses the following injection molding painting processes:
Spray painting
Powder coating
Stamping/Pad printing
Each of these processes has their own function, and Seaway uses each of them differently. For example, spray painting stands as the simplest and most cost-effective process for coloring or design. Typically, customers prefer this process in post production molding because of those factors alone. Others might need a process with stronger adhesive properties to outlast situations like inclement weather. For that, powder coating might provide more durability that a product needs. Seaway will work to make it right the first time.
Shielding
Shielding serves as a way to protect electronic devices and their environment in two different ways. This sprayed on coating process keeps electronics from emitting certain electrical currents, EMIs (electromagnetic interference) and RFIs (radio frequency interference), and increases device security and integrity.
Most Receptive Resins
The most receptive resins to shielding are:
Acrylonitrile Butadiene Styrene (ABS)
Nylon
PC/ABS Blend
PC/PBT
Poly Aryl Amide
Polybutylene Terephthalate (PBT)
Polycarbonate (PC)
Polyether Imide (PEI)
Polyphenylene Oxide (PPO)
Polyphthalamide (PPA)
Polyphthalamide (PPA)
Polystyrene (PS)
Less Receptive Resins
Those that are not as receptive are:
Liquid Crystal Polymer
PEEK/PEKK
Polyethylene
Polyimide
Polypropylene
Teflon (PTFE)
For resins that are not receptive, it is best to consult with an engineer to make further decisions. A Seaway engineer can assist in these important decisions while saving time and money. They can offer other services in shielding and painting to maximize aesthetic and function.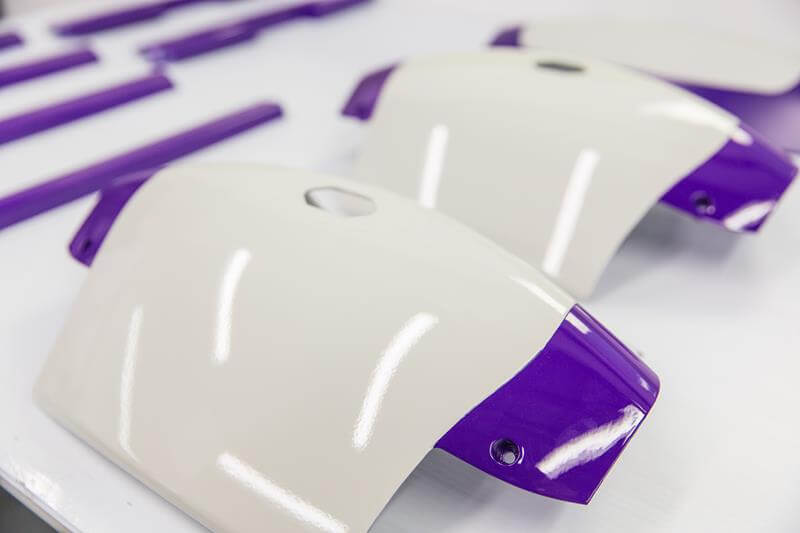 Top Coat Painting & Shielding
This detection device company had designed a detection device for use in identifying airborne explosives, chemicals, and drugs (including fentanyl). They created this device with durability in mind as they expected the US Border Patrol to utilize it in their operations. With this in mind, manufacturers for the device had to keep to the strict specifications with little room for error, requiring shielding and painting the exterior to increase device posterity.
Ready to Discuss Your Injection Molding Project?